2019/5/13
Products
Individual Customers
Corporate Customers
Extreme haste shots for unbreakable men! [Maca 11000 Ultimate GIGA MAX]
Ito Hanpo Pharmaceutical Co., Ltd. (Headquarters: Higashi-Osaka City, Osaka Prefecture, President: Tatsuo Ito), which manufactures and sells health foods, pharmaceuticals, and non-pharmaceutical products, has been used by many people since its launch. [Maca Drink] The third in the series, the largest maca compound in the history of the series, 11,000 mg (raw equivalent), [Maca 11000 Ultimate GIGA MAX] was released on May 2019, 5 (Monday).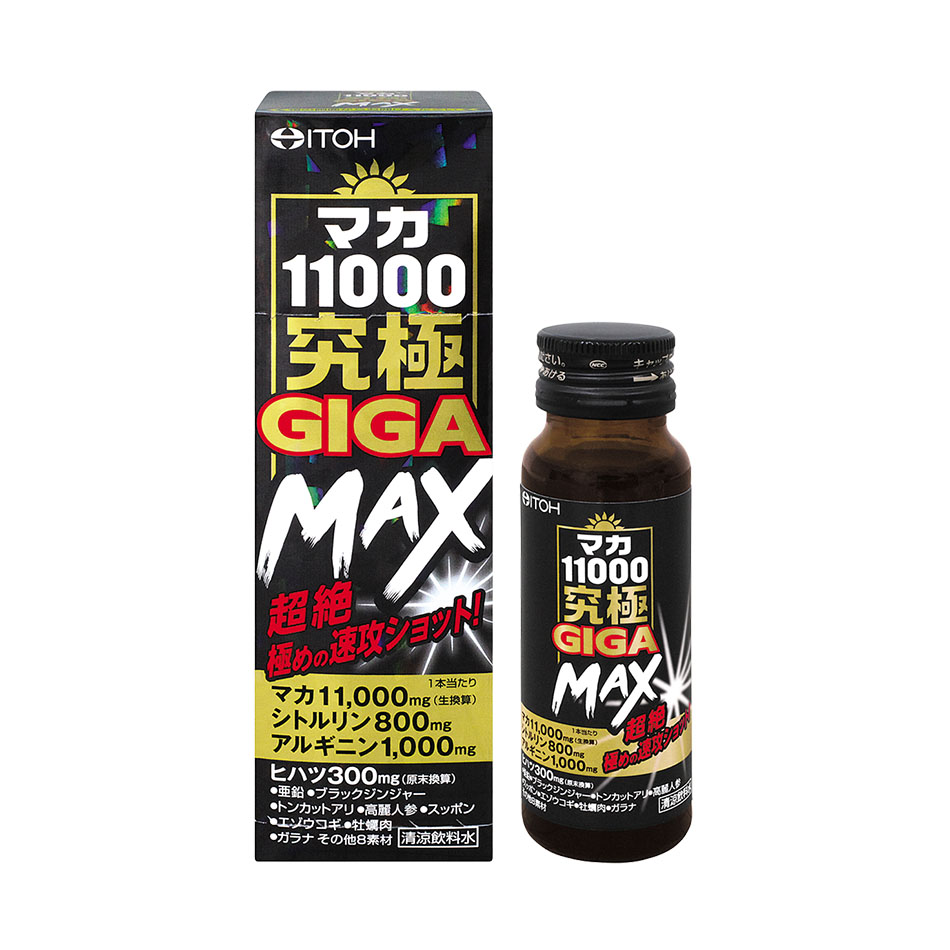 [Maca 11000 Ultimate GIGA MAX] has a total of 20 types of vitality, including "Maca" from Andes, which has strong vitality, double amino acids "citrulline x arginine", and "long pepper", which has the English name "long pepper". Contains ingredients that will be your friend.The ultimate maca drink that enhances you.
Per bottle of this product, including 1 mg of maca (raw equivalent), 11,000 mg of citrulin, 800 mg of arginine, 1,000 mg of hihatsu (converted to bulk powder), black ginger, toncat ant, ginseng, suppon, elephant kogi, oyster meat, etc. Contains a total of 300 types of galana, lampep, mukuna, ginger, royal jelly, caffeine, zinc, vitamin B1, vitamin B2, and vitamin B6.
【Product Summary】
Product name: [Maca 11000 Ultimate GIGA MAX]
Contents: 50mL
Suggested retail price: 2,200 yen (excluding tax)
Name: Soft drink
Combination (per 1 ml per bottle): Maca (raw equivalent) 50 mg, citrulline 11,000 mg, arginine 800 mg, long pepper (bulk powder equivalent) 1,000 mg
Shape: Liquid
Dealers: Nationwide drug stores
Product HP:https://www.itohkampo.co.jp/products/101140036.html