2015/7/13
Products
Individual Customers
Corporate Customers
[New product] New release of "Katsukatsu" support supplement for women that combines "folic acid" and "maca"! !!
Ito Hanpo Pharmaceutical Co., Ltd. (Headquarters: Higashi-Osaka City, Osaka Prefecture, President: Tatsuo Ito), which manufactures and sells health foods, pharmaceuticals, and quasi-drugs, has added "folic acid" and "maca extract". "Folic acid + maca" (tablet type) will be on sale from July 2015, 7 (Monday).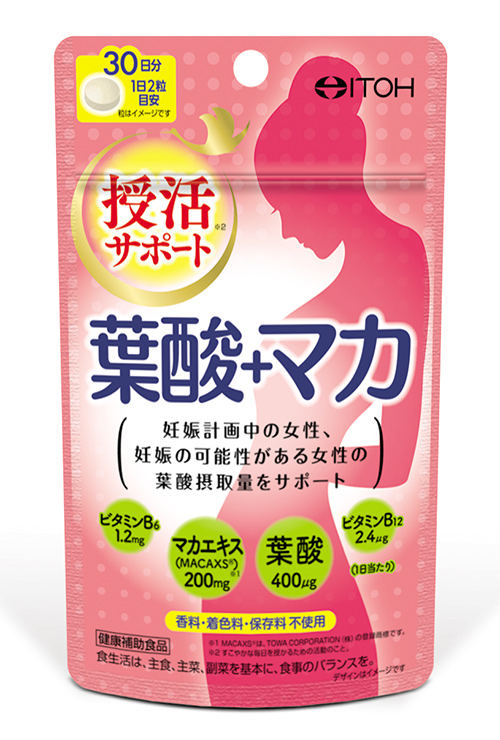 [ Product Features ]
"Folic acid" is a type of vitamin contained in green and yellow vegetables such as spinach and broccoli, liver, and soybeans.According to the Ministry of Health, Labor and Welfare, for women aged 18 to 49 years, folic acid intake is 240 ㎍ / day (as dietary folic acid) from a normal diet, and "women planning to become pregnant or women who may become pregnant". Recommends an additional 400 ㎍ / day (as monoglutamic acid-type folic acid) to reduce the risk of neural tube defects. "Maca" has been cultivated in the Andean highlands of South America for about 2000 years, and is said to have strong vitality because it grew up in harsh areas with different temperatures.The newly released "Folic Acid + Maca" contains 400 mg of "Folic Acid" and 200 mg of "Maca" as "Maca Extract" (per day).Vitamin B1 6mg and Vitamin B1.2 12㎍ (per day) are added to this new type of supplement for "women who want to have a healthy daily life".
Especially recommended for women who want to get ready to become moms.
Reference: Activities to give a healthy daily life
   Ministry of Health, Labor and Welfare "Japanese Dietary Intake Standards (2015 Edition)"
[Product Summary]
Product name:Folic acid + maca
Contents:60 tablets(30 days)
Suggested retail price: 2,200 yen
JAN code: 4987645496893
[ Product Details ]
Formulation shape: Tablet
Package shape: Aluminum zipper bag
Estimated daily amount: 1 tablets
Ingredients (per day [1 tablets]): Folic acid 2㎍, Maca extract 400㎎, Vitamin B200 6㎍, Vitamin B1.2 12㎍