Please tell us your current job.
Including recruitment
I am in charge of all personnel operations.
In the business administration department to which I belong, general affairs, accounting, and personnel affairs are handled.Among them, I am in charge of general personnel-related operations, including personnel management, personnel recruitment, and training.In addition, we also manage and operate consumables, equipment, facilities, and company vehicles as part of our business.
When do you find it most rewarding?
"I want this person to come!"
Acceptance of a job offer from a person who felt that.
During your recruiting activities, you will have the opportunity to meet a variety of attractive job seekers.Every time I meet such a person, I will create a company called Ito Kanpo Pharmaceutical together in the future, saying, "If this person can come," "This person will play an active role here," "This person," and "This person." It is full of expectations that may give you, and your dreams will swell.Then, if you get the consent of the offer from the person who feels "this person", it will be very rewarding.Also, it makes me happy to see him playing an active role after joining the company.
Please tell us about your future goals and prospects.
For those who have joined the company
I want you to play an active role more and more.
I would like to further support those who have joined the company so that they can play an active role and have large flowers bloom in 5 or 10 years.In addition to enhancing education, I would like to increase opportunities for communication such as interviews and aim for an environment where people can share anything, such as worries and troubles.We will also focus on hiring new graduates, which has resumed since 2022.
Daily schedule
5:00get up
Watering the plants in the garden.Harvest vegetables from the vegetable garden for breakfast.I have a routine to clean one place every day
7:00Time with your dog
I take pictures for Instagram
8:00Going to work
Check the schedule and email for the day.Cleaning the company is done carefully.
9:00ready
Checking materials for the interview
10:00interview
We are working while imagining the success of each company by drawing out the individuality and real intentions of each.
11:00Voucher confirmation
Confirmation of personnel-related slips.
12:00lunch
I often order bento boxes that are particular about the ingredients, such as millet rice.While having a casual conversation with a colleague.
13:00MTG
We will share information in the general affairs section.
14:00Web company information session
Recently, the number of company information sessions on the Web has increased.Even so, I am trying to convey it properly.
15:00Interviews, etc.
General affairs related work and in-house interviews.
16:00Information sharing
Exchange information with agents and confirm future policies.
17:00Remaining work
I will prepare for tomorrow with less overtime.
18:00Leaving
Shower immediately after returning home.It's a recent daily routine.
19:00dinner
Recently, I have refrained from drinking alcohol and have reduced the amount of white rice.The effect hasn't come out easily, but ...
20:00Hobbies
Check out all the trendy programs.While watching videos and TV, I knit my hobby.
22:00motion
With a goal of 1 steps a day, I'm a self-propelled road runner I recently purchased, and I'm earning steps while watching the concerts of my favorite group.
23:00Going to bed
Go to bed with your dog.
Message to those who want to join the company
For those who want to do anything!
It's the perfect company.
I joined Ito Kanpo Pharmaceutical because I thought that I could make use of the knowledge of biotechnology and nutrition that I had learned at university.It was also attractive that we consistently carry out everything from raw material selection to formulation design, manufacturing, sales, and customer support.I think that it is a perfect company for those who are curious about "I want to do anything!" Because the environment where I can demonstrate my strength is in place.We are waiting for applications from those who are interested in beauty and health and have an inquisitive mind.
My favorite product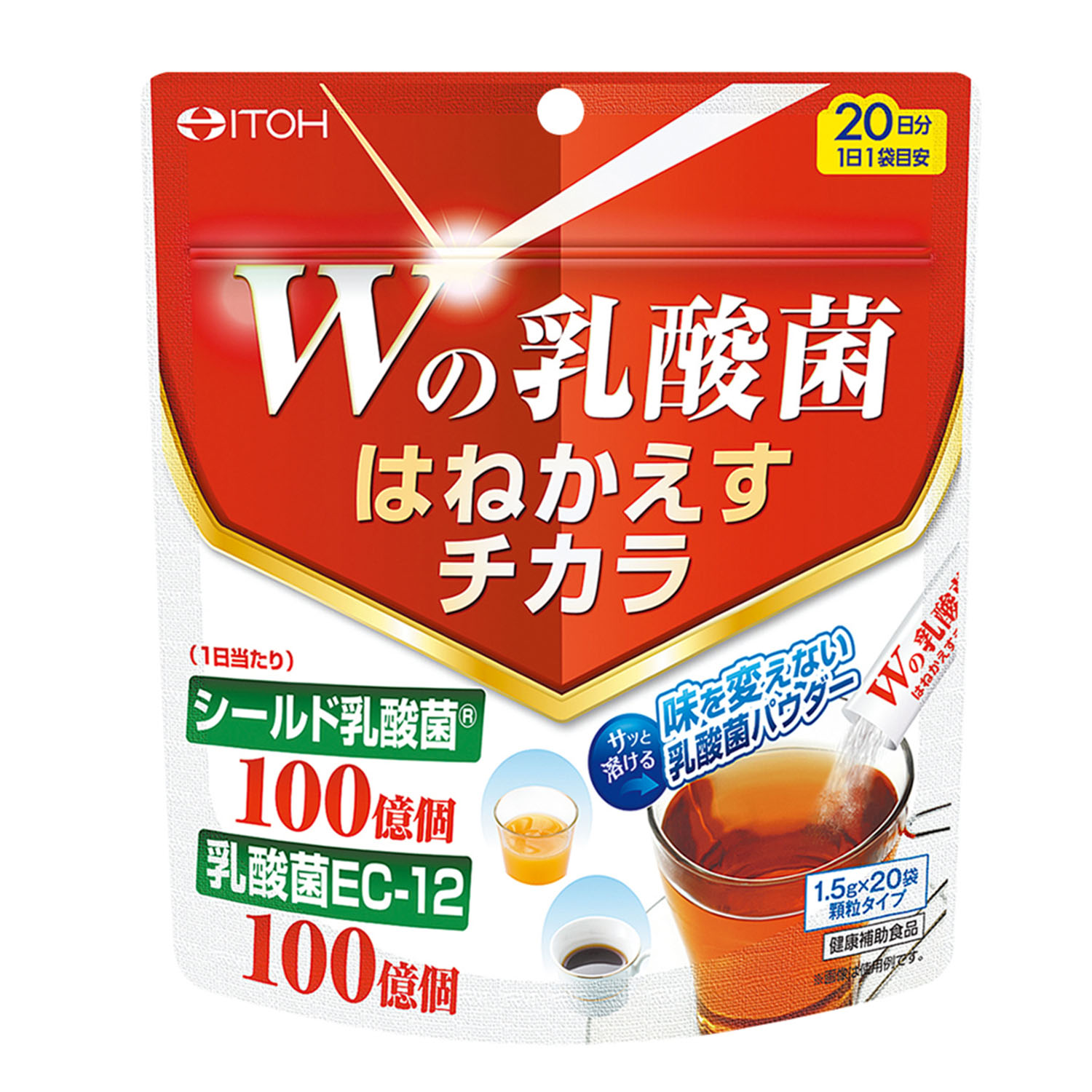 W lactic acid bacteria repelling power
It is a product containing 100 billion pieces (per day) of Shielded Lactic Acid Bacteria ®, which is expected to have "rebounding power".I drink it every day, hoping to repel various things.In winter, it is distributed to all employees of Ito Kanpo Pharmaceutical for health promotion.I think it's a really good product, so please give it a try.
View details
See other employee interviews